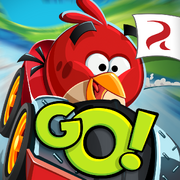 Welcome to the Angry Birds Go! Database
Ready, set, go! The birds and pigs go soapbox racing in our brand new game that's now out for all major platforms. Jump behind the wheel and start racing - it's Angry Birds Go! This wiki tells everything about the app. Even though it's under construction, anyone can help since that anyone is free to make pages, upload videos and photos and even better, can edit! Now that's something greater than a chewed shoe! You can help by creating an page: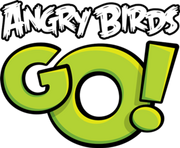 About Angry Birds Go!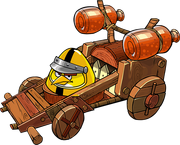 It is the 2nd freest app ever, with the first being Angry Birds Rio. It is also the first 3D playable app in the Angry Birds series. It is also the second game to use Telepods.
Wanna Play this App?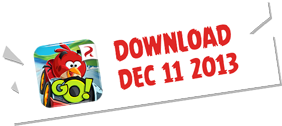 If your are interest in playing in this app, you can download it...for free! It is both on Google Play and on the App Store!
Latest activity
Get to see the newest edits so you can see the current version for pages!
Feel the rush as you fling those freewheeling birds and piggies down the track at breakneck speed, with plenty of twists and turns in a thrilling race to the finish line!
But look out for hazardous roads, mischievous opponents riding on your tail and special powers to put the race leader behind your pack. And go from soapbox car to supercar by upgrading your ride!
Plus, the Angry Birds would comes alive in rich, colorful 3D for the first-time ever! So you can see the birds and pigs from every angle and experience Piggy Island in an amazing new way!
Telepods Have Return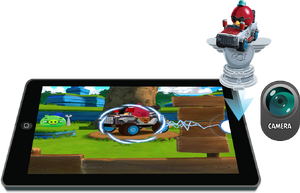 Start the race in your world with our awesome new range of collectible Angry Birds Go!TELEPODS figures. Then continue the fun in the game by teleporting the kart into the app!That's right-just place the compatible Hasbro toy on your device's camera to switch drivers before the big race!
Need Help on This Wiki or Your Own Wiki?
These things are common.
Notice
This pages aren't to edit, even for administrators. Anybody who do would be banished.
Being an Administrators
This page can be edited by any user(not block users, though). But, who can get to edit everything on this wiki? There are requirements:
Have at least over 9,000 edits.
Upload 100 photos/50 videos.
Edit your user 1,000 times.
You need to do every step. Some might be deleted, but they could be new things added. So, it's better to do this sooner than later!