"No matter what the occasion is, the birds and pigs always have something special cooking. Check out the Angry Birds holiday specials and see how the Bad Piggies celebrated their first birthday – with so much more to come!"
— Description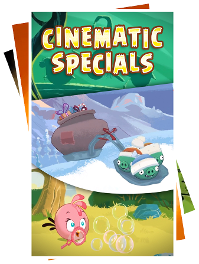 Info
Cinematic Specials is a channel in Angry Birds Toons. It tells about how the birds and the pigs do for the holidays. It also tells about birds's debut and trailers for games, like Rio, Space and the original.
External Links
Ad blocker interference detected!
Wikia is a free-to-use site that makes money from advertising. We have a modified experience for viewers using ad blockers

Wikia is not accessible if you've made further modifications. Remove the custom ad blocker rule(s) and the page will load as expected.