"This is the track version. For others, see Rocky Road(disambiguation)."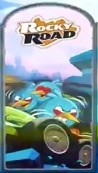 Info
Rocky Road is the second episode/circuit in Angry Birds Go!. In this track, you can unlock The Blues, King Pig and Terrence.
Release Date
Like Seedway, it was released on the day the app was released.
Karts
1.Capster (Level 1)
2.Lucky Skater (Level 2)
3.Home Runner (Level 3)
4.Punch Box (Level 4)
5.Tri-Toaster (Level 6)
1.Beach Buggy (Level 1)
2.Royal Blue (Level 2)
3.Green Machine (Level 3)
4.Royal Snout (Level 4)
5.Royal Rumbler (Level 6)
1.Card-Board (Level 1)
2.Cool Runner (Level 2)
3.Picnic Packer (Level 3)
4.Big Burner (Level 4)
5.Beep Beep (Level 6)
Trivia
The name is a reference to the Rocky Road Ice Cream and due to the fact that this track takes place off road.
Card-Board's old price was 309 Gems, but the price has since been lowered to 251 Gems.
Gallery
Ad blocker interference detected!
Wikia is a free-to-use site that makes money from advertising. We have a modified experience for viewers using ad blockers

Wikia is not accessible if you've made further modifications. Remove the custom ad blocker rule(s) and the page will load as expected.